International Art Alliance and Elegant New York Magazine present:
«Contrasts of Spring»
April 12th 2018  from 6 pm to 9 pm
Address: Caelum Gallery, 508-526- W 26th Street, New York, NY, 3rd floor.
Free Entry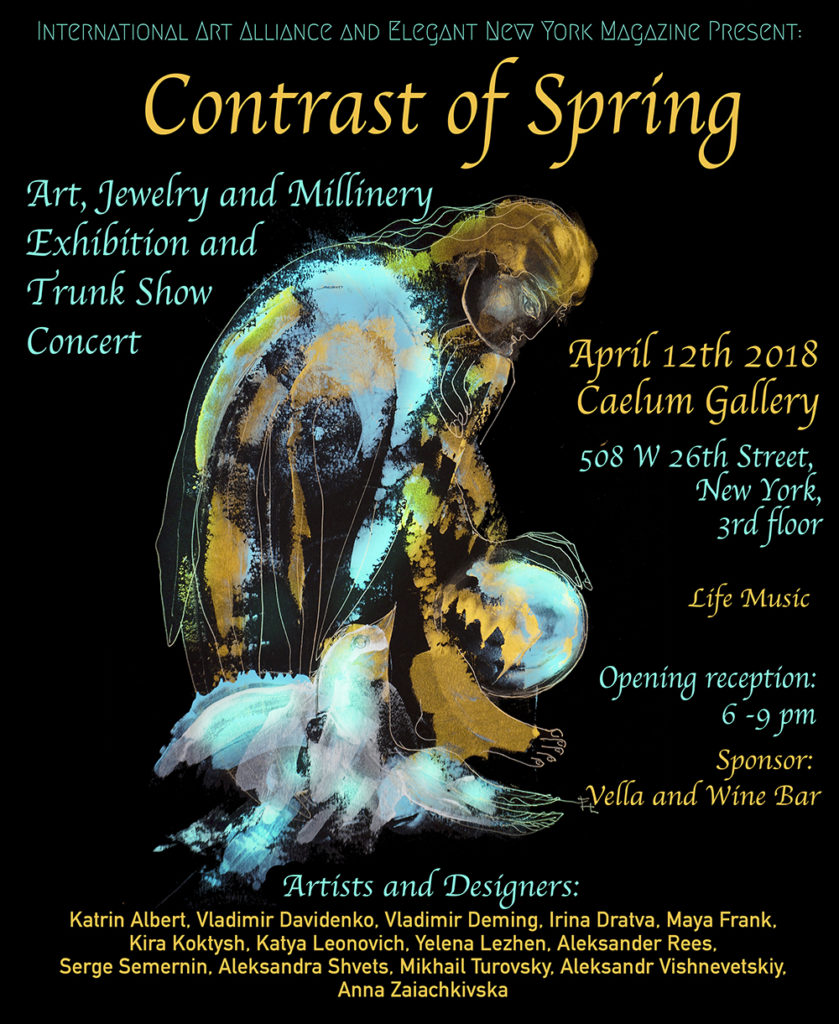 The Tree of Arts consists of paintings, drawings, photography, jewelry, and fashion –  those branches being the most beautiful in Spring. It's has become the annual tradition, in April, to celebrate art, inspiration, and beauty, bringing together the triumph of different dimensions of creation. Namely, the idea of unity, creative artistry, and solidarity of arts inspires us to create this  International Art Alliance project.
Exhibition «Contrasts of Spring» includes painters, designers, and photographers. We are certain that creative people and their work is the most powerful potential that the world possesses. Creativity and creation in all its manifestations is the constant that gives hope to people from century to century and allows one to feel, for a moment, human mutual understanding and continuity of art in the context of the historical development of civilization.
April 12 International Art Alliance presents an exhibition of works of 14 talented creative personalities, members of the Alliance. Their works differ in style, technique, and concept.
Each of them is distinguished by unique approach and originality of perception and comprehension of life, the phenomenon of personality and interpenetration of the real world and fantasy. The exhibition is unified in its concept, but the exposition of each of the participants is deeply unique. Craftsmanship and inspiration, fueled by the spirit of the spring revival, charges with extraordinary energy, excites the imagination and opens new, unexpected facets of the world around us, filled with vivid emotions, unbridled fantasies, and incredible ideas.
Event Program
Art Show, Jewelry and Millinery Trunk Show –  6:00-9:00
Meet and Greet of the guests and participants, author's poetic composition
by Natalia Newman – 6:30-7:00 pm
Music:
DJ set  with opera vocal and live saxophone by Niko Znaharchuk and Yaro Chaus,
members of the award-winning electronic rock band PROSSPEKT – 6:30 – 8:30 
Photography and video by Katerina Grigorieva
Cocktails
Sponsors: Vella and Wine Bar 
First 30 guests will receive souvenirs from event organizers.
 Participants
Painters:  Mikhail Turovskiy, Yelena Lezhen, Katya Leonovich, Aleksander Rees, Vladimir Davidenko,
Aleksandr Vishnevetskiy,  Anna Zaiachkivska, Serge Semernin, Maya Frank.
Photographers: Alexandra Shvets and  Katrin Albert
Jewelry designers: Kira Koktysh and Vladimir Deming
Millinery: Irina Dratvа
Curator: Tatyana Borodina
All artists represented on April 12, with the exception of 2 debutants, regularly participate in prestigious international exhibitions and presentations, their works are showcased in many private collections around the world.
Our debutants, photographers: Alexandra Shvets and Katrin Albert. Traditionally, at every exhibition of the Art Alliance, we represent debutants, considering it our mission – to open new names, to give the chance to creative people to show their works, and the public will get acquainted with young talents.
Meet participants of the exhibition «Contrasts of Spring»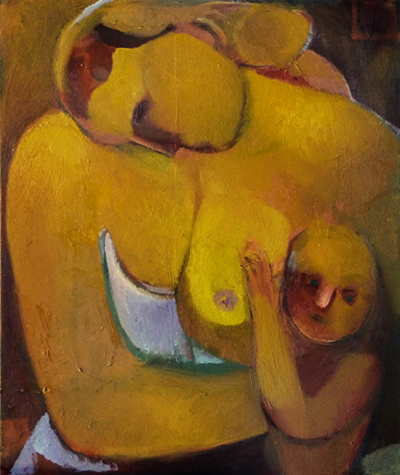 Mikhail Turovskiy, People's Artist of Ukraine. Member of the Academy of Arts of Ukraine.
«Contempt of the ephemeral gives Turovsky's work the power of time. More than a message, it is a link between yesterday and tomorrow that Turovsky leaves us when he paints».
– Adeline Chenon, Le Mondе, June 14, 1999. Paris, France.
Turovsky is an artist of great range and energy. He constantly experiments with diverse materials, is extremely prolific in his output and is one of the great masters of our time in the field of painting and drawing. He continues to develop the figurative tradition enriched by the achievements of modernism and belongs to the rank of such masters as Lucien Freud, Balthus, and Alice Neel. His paintings are part of the collection of such museums as Yad Vashem Memorial Museum in Jerusalem, Israel; the State Tretiakov Gallery in Moscow, Russia; The National Art Museum of Ukraine in Kiev; The Snite Museum of Notre Dame University, Indiana; and Judah L. Magnus Museum in Berkeley California, among others, as well as in many private collections. His paintings have been shown in various galleries in Europe and America. His works have been exhibited in galleries and public spaces of such cities as New York, Philadelphia, Paris, Geneva, Madrid, Bordeaux, Lyon, Lille, Brussels, and Venice during the 1999 Venice Biennale. In June of 2001, a solo retrospective exhibition was held at The National Art Museum of Ukraine, comprised of 80 selected paintings of the previous 20 years. In January of 2009 exhibition of Turovsky HOLOCAUST paintings was held at the headquarters of the United Nations Organization in New York, and in October of the same year at the Cathedral of St. John the Divine in New York City. In May 2012 a solo retrospective exhibition was held in New York City at the National Art Club. In 2004 a big monograph " Mikhail Turovsky" was published in Paris by Attard publication. In 2008 Turovsky received from President of Ukraine the honorary title of People's Artist of Ukraine and in 2009 was elected as a member of The Academy of the Arts of Ukraine. In 2013 Mikhail was awarded the Gold Medal of the Academy of Arts of Ukraine. In 2014 Mikhail was named "Person of the year" Russian speaking America.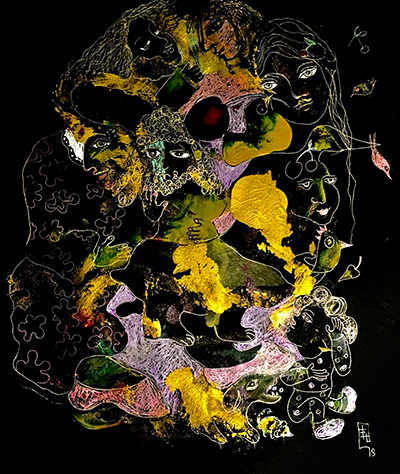 We are happy that wonderful and talented artists and designers take part in our exposition. Meet the participants of the exhibition "Contrasts of Spring" and with the fact that each of them tells about itself, its creativity and art:
Yelena Lezhen: «There is a blank sheet of paper in front of me. I look at it, sometimes for quite some time. And suddenly, a miracle begins, out of nowhere there is some drawing. Sometimes it's just an eye that looks at me. But it is not always the case, it is necessary to put a few random and unexpected spots of paint and then in them, you can see a completely different world, that exists in another dimension, in my imagination, in my fantasy. Suddenly, a female figure appears a mask, a horse, a child in the clouds of transparent combinations of colors. Past, present and future, joy and anxiety, good and evil – all this creates a world that I control or the world that controls me.»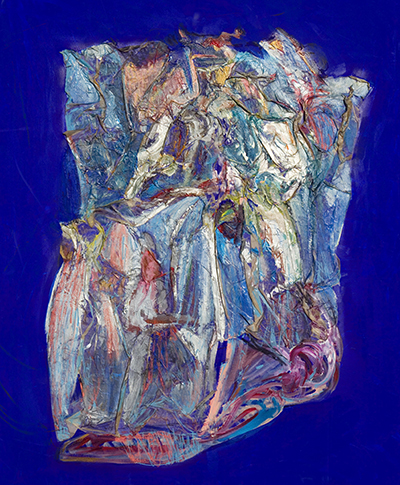 Katya Leonovich: «Abstract art: Unexplained, unpredictable, incredible and unexpected refrain of the dreams of the burning mind day and night…
I work in many different genres, but at this exhibition, I am presenting series of abstracts created in Italy. To live in Italy, it's like living in a museum, where beauty and perfection is all around you. Everything is perfect: nature, art; it could be intimidating, but even then, it still drives my creativity.
For these abstracts, I used magnificent Italian paints and other unique materials. When I wanted to continue the series here in America, I couldn't find the same quality of materials no matter how much I tried. Italy is perfect even this way.» (laughs).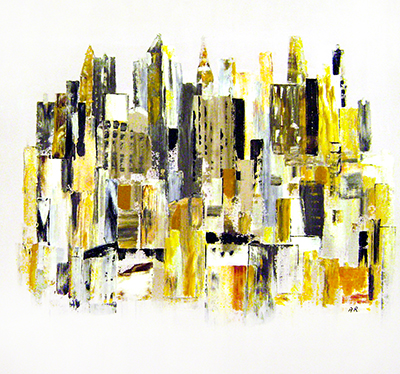 Aleksander Rees is the artist and musician favorite painting genre is the landscape and, in particular, the urban landscape. At one time, the art historian Alexander Glazer defined the stylistics of these paintings as neo-impressionism. However, in our exhibit, we present a completely different direction of his work. They refer the viewer to the reminiscences and allusions that arise in the artist in the process of his work on the performance of music by a composer – from Bach or Schubert to Shostakovich or Schnittke.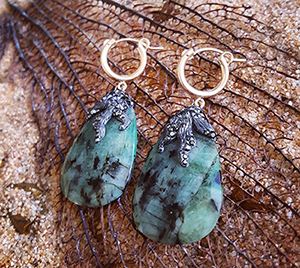 Kira Koktysh: «I am always on a quest for something unusual. As always Nature, the best Artist is the endless source of originality and inspiration. While it might be a very simple thing or view or subject and be in front of you all the time I try to look at things from a different angle and listen to myself. I may call myself a hunter – hunter for color because the color is my real passion!
My current collection called "Underwater Garden" inspired by miraculous landscapes of coral reefs. Hidden underwater nature treasures present all the abundance of colors you may find. There are no restrictions and limitation of textures, palettes and color combinations. The collection features various stones: Australian Chrysoprases, Multicolor Sapphires, Emeralds, Corals, and Malachite.»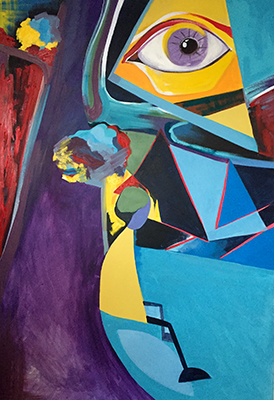 Anna Zaiachkivska: «Something deep inside guides my hand!  I'm 26 and I was born blessed by the name "An Artist". I was writing the lyrics and scripts, was performing and acting in a short movie. And big one for me as well to have a chance to stay creative personality inside the world of fine art! All colors on the canvases show my soul and beliefs!!! Almost 3 years ago, after I took my master, started to present my art pieces in different exhibitions. And last year (2017) I was showed 4th time in NYC.
My main subjects are relationship and feelings. I try to transform them into special forms and shapes, color contrast! The collection which is showing now named "about ourselves". It's about life, love, dream, even fairytale but not darkness! We have to see a positive and light side of everything!»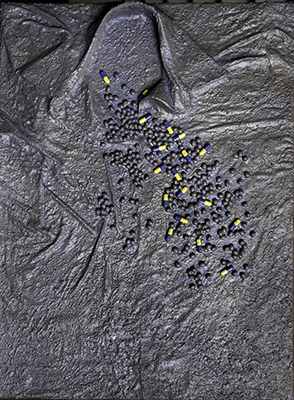 Serge Semernin: «I am very happy that God gave me the ability and the opportunity to create Art, to think about it, and to try to comprehend and perceive my being and world around me through Art.  I tackle problems in the realm of emotions and lucid expressiveness, and I look for their resolution on the cusp of intuition and philosophy.  My creative process is directed toward investigating color, texture, and interplay of the surface of the canvas with the illusions created through visual perception of the image.  My Art is somewhat elitist and therefore is understood and appreciated by a select audience.  Nevertheless, I am convinced I am on the right path.»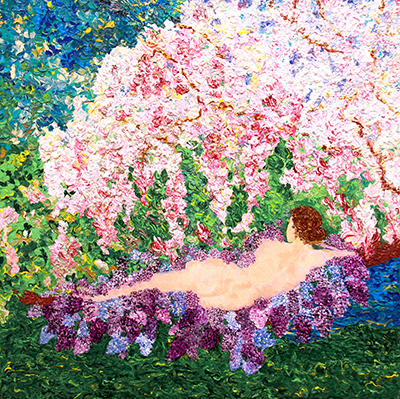 Aleksandr Vishnevetskiy is art is characterized by a predominant tendency that forwards the abstraction of form and space and by the use of a prevalent texture of brush stroke. He uses brilliant bright colors with different shades of gold as a rich, warm color as it is slashed on top and woven into the other colors in the paintings. The heavy impasto of acrylic paint that is applied energetically and freely to the canvas is characteristic of this artist's style.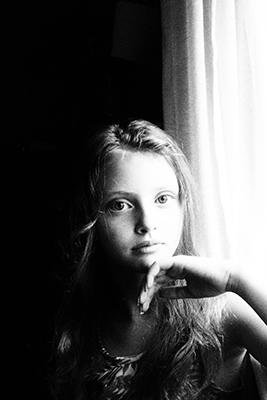 Akeksandra Shvets: «My work explores the beauty of black and white photography. Black and white, the two true colors that contrast life, bring my work a sense of balance. As an artist, I use the chiaroscuro technique to bring out the light from darkness. Fascinated with the concept of time, I started searching for a way to make vintage looking photos. The raw beauty of time is what shows the value of each photo.  Setting a melancholy tone to my work, I try to show peace in darkness. In the future, I hope to spend more time in nature and try to experiment more with different mediums such as water and ice.»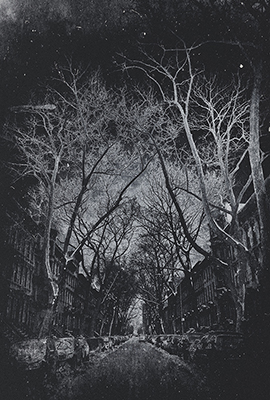 Katrin Albert: «I live, I create through combining little crumpled and torn pieces of paper with my random thoughts, feather-weight cobwebs of dreams, wall graffiti, mirrors, and sand. I arrange dusty treasures I found while wandering, bittersweet memories, overheard secrets, and desires. I add the scent of cedar and bergamot and mix it all with ink, coffee and blood because I accidentally prick my finger with a quill while writing, and because most rituals require such commitment. I believe in grinning at signs granted by the universe, my pricked finger just one of the many I've seen today.
Ever since I made a contract with myself to forever seek magic in daily adventures, I do things on a whim, feel the wind on my back, notice hints and make things happen as I wish them to be. I don't expect anyone else to show me miracles. I paint my own enchanted green door and step out, remembering to leave it half-open.»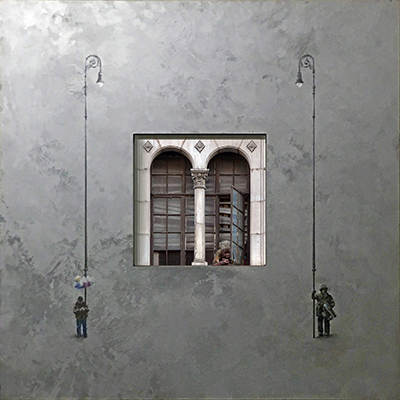 Vladimir Davidenko: «For me as a painter, decorator and illustrator, art is the way and the methods to reflect, influence and transform the environment in order to make it more attractive and livable. It is also a quality issue. The main subject of my creative activities is urban environment as an embodiment of artificiality which has been based on natural needs and feelings, as a realm of diversity and variety, as a sanctuary to strangers, and as an object of collective art.  The bigger and more cosmopolitan the city, the more intricate grotesque it represents. The city dwellers' lives, being the elements of this gigantic ever-changing grotesque, are framed by urban environment, both urbs and civitas. Following my main model's paradigm, I combine a variety of techniques and materials and different art forms, incorporate frames into paintings, aestheticize unavoidable inferiority of cosmopolises, emphasize the presence of light in all manifestations — in other words, I use anything that intrigues, fascinates and stimulates me to intrigue, fascinate and stimulate the viewers. »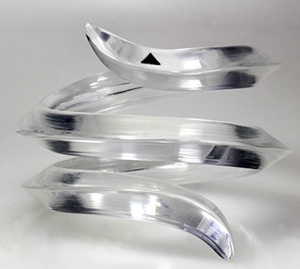 Vladimir Deming: «In my work, I try to unearth the beauty, which is hidden in the mediums I use. Flowing designs, contrasting colors, and hand-carving techniques establish a dramatic look and make this style unique. I design keeping in mind the union between the body and jewelry, resulting in a soft, comfortable feeling for the wearer. This style can be worn daily and for a special occasion, I design for the woman who wants to look and feel attractive, artistic, stylish and one-of-a-kind.»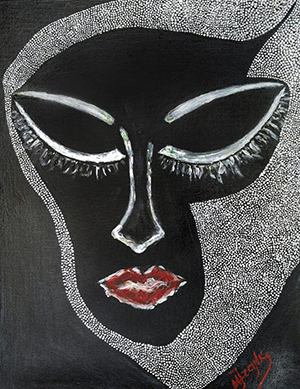 Maya Frank: «Children's dreams, hopes and desires, lightness of ballet and accuracy of surgeons. Madness mixing of cultures and civilizations. The works of Maya Frank became a reflection of the artist's biography: the daughter of a Jew and a Turkmen, a ballerina in her childhood, a doctor and a criminologist in her youth, an actress now. Her work – a reflection of issues that a person asks himself all his life – where are we from? What awaits us? Her works are a reflection of despair and happiness, love and fall, grief and joy through which every person, every civilization passes.»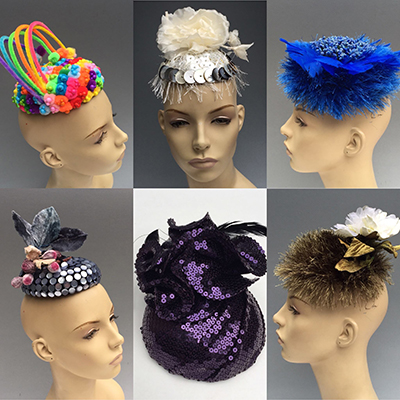 Irina Dratvа: «Since 2010, I have been making custom made "dreams come true" hats for a grateful international clientele via my IDHatShop on Etsy.  As a freelance headwear pattern maker, I worked for and had many creative collaborations with other American designers. Classic men's caps I design and made are popular at the Kai D store in Williamsburg, Brooklyn.
Last summer, my work from the 1990's was prominently featured in the exhibition "In Progress", an impressive retrospective of Ukrainian Fashion in Kiev that occupied 36,000 square feet at Mystetskyi Arsenal. Four installations in the main hall of the exhibition showcased an array of my creative legacy in Ukraine, ranging from wearable art objects to flamboyant club wear.
Inspired by the enthusiastic feedback to my older works, a new millinery collection "NOfashiON BY IRINA DRATVA" was born in 2017. I am happy to present to your attention flower hats, fascinators, and feathered headpieces. The hats are innovative in their construction, combining new materials and techniques with traditional millinery craftsmanship.»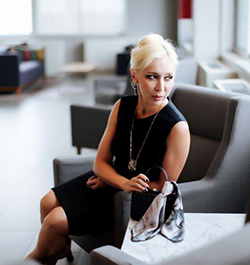 Natalia Newman: «I started as a performing artist, and then organically transitioned into a poet and a writer. Now, as a director and a producer of "The Red Curtains Theater" ™ I write presentations, stage plays and music inspired poetry. I write poetry under the pseudonym, Téa Blue, because it's a different state of mind and soul for me –  honest, daring, but vulnerable. I try to apply the same principles to my every artistic project.»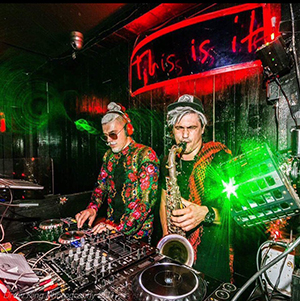 About  Electronic Rock Band PROSSPEKT: PROSSPEKT combines electronic dance rock music, high vocal energy with steampunk guitars, a saxophone, and Victorian theatrical stage presence. PROSSPEKT draws audiences into their entrancing dancing game with all-original music, incendiary stage movement, and infectious tunes.
PROSSPEKT is an electronic-rock band that was formed in Minsk, Belarus in 2010 by singer-songwriters Nikolay Znaharchuk and Olya Paliushik.
PROSSPEKT won the Belarus National Music Award as a "Debut of the Year" in 2011, and went on to participate in large-scale concerts, festivals and TV-projects around the country. In 2013 the band relocated to New York City, added a few new members from the thriving music scene in NYC, and continued to perform at festivals and clubs around the US.