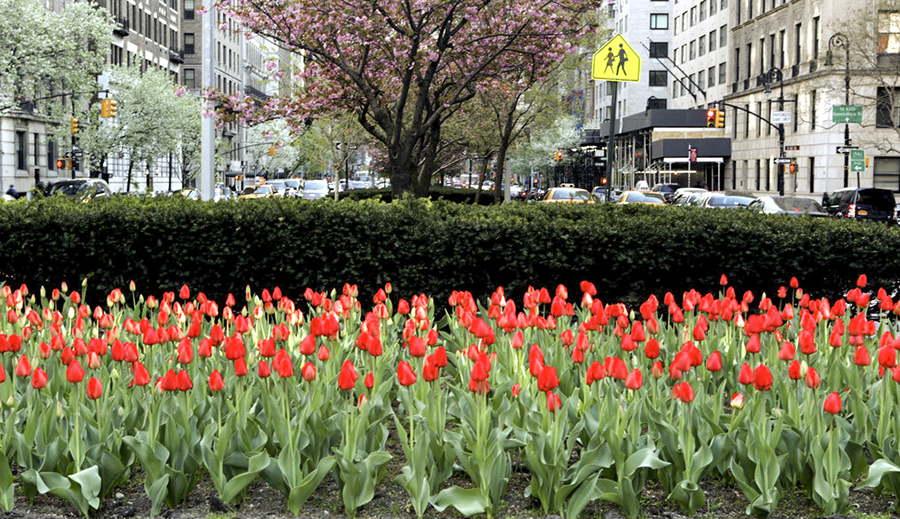 [box][quote]Нью-Йорк полон противоречий и парадоксов. Вот характерный, для этого странного города, пример: первый месяц нынешней весны оказался последним и самым холодным «зимним» месяцем. Надеемся апрель не подведет, и порадует тем, чего мы так ждали, но увы напрасно, от марта. Зацветут деревья, зазеленеет трава, запоют птицы и засверкают новыми красками, поблекшие за зиму, мечты и надежды. Весна принесет возрождение и обновление, новые силы и новые свершения.[/quote][/box]
Выставка The Ardor of Spring, на которую 20 апреля приглашает всех  International Art Alliance, посвящена оптимистической весенней теме «Страсти обновления и возрождения». The Ardor of Spring – это выставка новой концепции и современного подхода, –  на ней вы встретите многообещающих дебютантов и известных мастеров своего дела – художников, скульпторов, дизайнеров.
Самобытные, оригинальные, а порой и сумасбродные, но всегда высокопрофессиональные и элегантные работы скульпторов и художников, дизайнерские украшения и эксклюзивная одежда прямо с подиума Нью-Йоркской Недели Моды, будут доступна всем гостям выставки, главное, чтобы все это пришлось по вкусу и подошло по размеру. Подробности здесь.
Но намного раньше, 5 апреля, журнал Elegant New York приглашает все, кто будет в Нью-Йорке, на новую встречу с Ниной Аловерт и ее уникальными фотоработами в Zinc Bar в Гринвич виллыдж. Подробности здесь.
Не подумайте, что кроме мероприятий, к которым наш журнал приложил руку, сердце и разум, ничего не происходит в Нью-Йорке! Конечно происходит множество грандиозного, невероятного и незабываемого, – все как обычно.
Во-первых, хочется верить, что пасхальное воскресенье 16 апреля будет солнечным и теплым, и парад Шляп и Цветочное шоу магазина Macys пройдут на славу.
И хотя, мотоциклетные гонки и Бруклинский фолк-фестиваль, состоятся при любой погоде, гости предпочтут ясный день, тем более, в этом году ожидается нечто особенное и неожиданное, на этих двух, столь разных, на первый взгляд, мероприятиях. Не пропустите!
Экстравагантная вечеринка The Black Party, судя по анонсам, обещает быть как никогда блистательной, но и, как всегда, немного шокирующей. Возможно эта великолепная «темная ночь» не для всех, но наверняка интересна тем, кто активно участвует в жизни современной gay-society.
В апрели на редкость много магических шоу и театральных премьер, наверняка волшебство весны тому причина. Посетите хотя бы одно из представлений, и вы поймете, что значит настоящая магия Нью-Йорка.
А такое случается не каждый день, и даже не каждый год – на Бродвее запустили новый грандиозный мюзикл – «Anastasia». Билеты в дни премьеры доходили до $700, но к середине апреля есть надежда купить приличные балеты и по более реалистичной цене и насладится романтической историей с русскими мотивами.
Об остальном читайте в нашей Афише.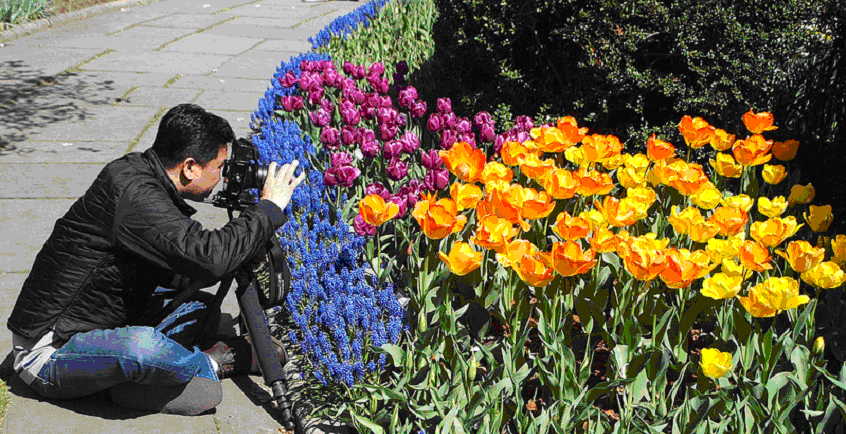 Photography show April 1 – 2, 2017 (begins March 30) The Photography Show by AIPAD exhibits museum-quality work from 115 galleries at Pier 94.
Young dancers April 1 – 2, 2017 (also March) Described as "indefatigable, virtuosic, and relentlessly sexy" by the Los Angeles Times, Ailey II Dance Company performs exhilarating new works at NYU Skirball Center for the Performing Arts. (March 30 & April 1 are not new.) Discount tickets $32 to $48.
Orchid Show – evening April 1 – 8, 2017 (begins March 4) Wander through the Orchid Show at the New York Botanical Garden, buy a cocktail, and hear romantic music playing on Orchid Evenings for age 21+. Open March 4, 11, 18, 25, (31 LGBT); April 1, 7, 8. Discount tickets $29.
Flower show April 1 – 9, 2017 (begins March 26) See spectacular arrangements of flowers from around the world and attend scheduled events at Macy's Flower Show on Herald Square.
Orchid Show April 1 – 9, 2017 (begins Feb. 18) The Orchid Show fills the conservatory at the New York Botanical Garden with thousands of orchids in an amazing array of colors, shapes, sizes, and textures. Discount tickets $15 (March 29 and later).
Children's Carnival April 1 – 2 and 8 – 9, 2017 Children's Carnival has carnival rides, midway games, hayrides, and children's entertainment in the apple orchard at Queens County Farm Museum.
Guitar festival April 1 – 9, 2017 Long Island Guitar Festival offers concerts, master classes, and workshops by outstanding guitarists and teachers at Long Island University in Brookville.
Mermaid musical April 1 – 23, 2017 Based on the book by Hans Christian Anderson, The Little Mermaid is about King Triton's daughter Ariel, who longs to be human, at Players Theatre. Arrive an hour early for a family craft workshop. Discount tickets $20 to $52.
Charming musical April 1 – 30, 2017 (also March) The Fantasticks is a funny and romantic musical entertaining audiences for years, in intimate Anne Bernstein Theater. Discount tickets $38.
Jazz April 1 – May 10, 2017 (also March) Birdland showcases jazz orchestras, vocalists, and virtuosos every night on West 44th Street, with a $20 food or drink minimum. Discount tickets $13 to $20.
Science magic April 1 – May 28, 2017 (weekends) A physics demonstrator from Rutgers University performs amazing feats in That Physics Show using cold liquid nitrogen, burning hydrogen, and bright laser lights at Elektra Theatre. Discount tickets $32.
Magic April 1 – May 29, 2017 (7 p.m.) Talented magician Miles Thorn performs astonishing illusions and incredible feats of juggling at Elektra Theatre. Discount tickets $19 to $36.
Musical: "Groundhog Day" April 1 – Dec. 30, 2017 Based on the film starring Bill Murray, Groundhog Day is about a big-city weatherman stuck in a small town and mysteriously reliving the same day over and over again, which gives him extra chances to find love, at August Wilson Theatre. Discount tickets $70 to $100.
Family basketball show April 2, 2017 (noon) Watch the Harlem Globetrotters demonstrate ball handling wizardry, rim-rattling dunks, trick shots, and comedy at Barclays Center in Brooklyn. Discount tickets $35 to $58.
Dinner cruise April 2 – May 26, 2017 (7 p.m.) Enjoy a buffet dinner with 2.5 hours of views on the New York Dinner Cruise by Spirit Cruises, plus a dance with a DJ, leaving Pier 61. Discount tickets $80 – $84.
Jazz Cruise April 2 – May 28, 2017 (7:15 p.m.) Enjoy skyline views, live jazz, and a complimentary drink on the Evening Jazz Cruise Aboard Manhattan on a decorated 1920s-style yacht that leaves Chelsea Piers (Pier 62). Discount tickets $39.
Magic show April 3, 10, 17, 2017 (8 p.m.) Monday Night Magic stars five professional magicians performing card tricks and feats of wonder with humor at Players Theatre. Discount tickets $23 to $40.
Kevin Kline in comic play April 3 – July 2, 2017 (also March) Noël Coward's semi-autobiographical comedy Present Laughter follows a self-obsessed actor in the midst of a mid-life crisis indulging in life's excesses at St. James Theatre. Discount tickets $69 to $99.
Taste of Brooklyn April 4, 2017 (6:30 to 9:30 p.m.) Sample Brooklyn restaurant and bar offerings with DJ music at A Taste of Fifth in Grand Prospect Hall.
Italian opera April 4 & 11, 2017 (7:30 p.m.)  La Traviata is a bittersweet love story by Verdi at the Metropolitan Opera House. Discount tickets $72 – $98.
Sensual Tango show April 7, 2017 (8 p.m.) Tango Lovers features elegant and exciting dance and music by South American performers at Master Theater in Brooklyn. Discount tickets $27 to $38.
Easter eggs of the Ukraine April 8, 2017 (1 to 5 p.m.) See artists make beautiful Ukrainian pysanky (eggs) using wax-resist batik, watch an excellent 14-minute film about pysanky, and visit the exhibition of pysanky at the Ukrainian Museum. They suggest you arrive by 4 p.m. because they close at 5 p.m.
Wine tasting April 8, 2017 (12 and 5:30 p.m.) Brooklyn Wine Fest includes tastes of wine from nine countries, plus food for sale and live music at Brooklyn Expo Center for age 21+. Discount tickets $54.
Jazz musical April 8, 2017 (7 p.m.) Hear rowdy, humorous songs by Fats Waller from the early days of jazz at Ain't Misbehavin' at Harlem Repertory Theatre.  Discount tickets $13 to $25.
Robot competition April 8 – 9, 2017 (practices on April 7) Watch a tournament of 48 teams at FIRST Robotics Competition at The Armory on Fort Washington Ave. Free.
Easter train – Whippany April 8, 9, 15, 2017 A ticket to Easter Bunny Express includes a 10-mile roundtrip train ride as the big bunny greets kids and the crew hands out treats, plus a visit to the train museum in Whippany, NJ.
Arts festival April 8 – May 20, 2017 See creative plays, films, and more at the Downtown Urban Arts Festival (DUAF), which showcases urban artists and promotes diversity.
Multicultural comedy April 11, 2017 (8:30 p.m.) The Most Races Show on Earth "is a stand-up comedy show that finds and features the best multicultural comedians in North America" at the Knitting Factory.
Auto show April 14 – 23, 2017 New York International Auto Show is billed as the nation's first and most attended at Jacob Javits Center.
Easter egg scavenger hunt April 16, 2017 (1:30 p.m.) Follow clues around New York City with the help of a smartphone app to find hidden eggs on The Amazing Easter Egg Scavenger Hunt starting at Slattery's Pub.
Easter parade April 16, 2017 Wear an extravagant hat or festive costume and join the people strolling on Fifth Avenue from 49th to 57th Streets in the Easter Parade and Bonnet Festival. It is usually described in the official street closure as "Easter Sunday Mass" from 10 a.m. to 4 p.m. Free.
Earth Day April 18, 2017 (12 to 7 p.m.) Earth Day features environmental exhibitors, green businesses, kids' activities, and live performances at Union Square. Free.
Interested in technology? April 18, 2017 TechDay is a giant science fair with 400 exhibitors, including innovative startups at Pier 94. Free.
Fake wedding April 19, 2017 (7 p.m.) Attend an emotional wedding ceremony, eat a light dinner, and dance at a reception to check out the wedding vendors in action at The Big Fake Wedding NYC at Midtown Loft & Terrace. No gifts required!
Opera April 19 & 27, 2017 The Metropolitan Opera sets Verdi's classic opera Rigoletto in decadent 1960s Las Vegas. It's sung in Italian with subtitles at the Metropolitan Opera House. Discount tickets $30 to $98.
Tribeca Film Festival April 19 – 30, 2017 Tribeca Film Festival is a giant festival offering films, music, and culture in Lower Manhattan.
Travel festival April 20 – 23, 2017 Hear speakers share travel tips and stories, attend a workshop, and visit exhibitors at the New York Travel Festivalin multiple Manhattan locations.
Art exposition April 22 – 24, 2017 (preview April 21) Billed as the world's largest fine art trade show, Artexpo New York offers new works by 400 exhibitors, educational seminars, and cocktail parties at Pier 94. Discount tickets $6.
Cherry blossom day April 23, 2017 Bloomfest features 4,000 blossoming Japanese cherry trees, Japanese cultural demonstrations, children's activities, live music, a craft market, and food vendors at Branch Brook Park in Newark, NJ. Free.
Opera by Mozart April 26, 2017 (7:30 p.m.) Don Giovanni is a seduction artist who ends up paying for his immorality in this Italian opera with subtitles at Metropolitan Opera House. Discount tickets $72.
Folk music festival April 28 – 30, 2017 Hear folk, blues, jug-band, string-band, bluegrass, Balkan, and Irish music at the Brooklyn Folk Festival, which has vocal and instrumental workshops, film screenings, a family-friendly square dance, and a banjo tossing contest at St. Ann's Church.
Motocross racing April 29, 2017 (4:30 p.m.) Off-road motorcycles race on dirt tracks with steep jumps, tight corners, and obstacles at AMA Supercross in MetLife Stadium, East Rutherford, NJ. Discount tickets $23 to $49.
Cherry blossom festival April 29 – 30, 2017 Sakura Matsuri features 200 blossoming cherry trees and 60 events and performances celebrating Japanese culture at the Brooklyn Botanic Garden.
Wine in the garden April 29 – 30, 2017 (12 to 4 p.m.) Sample wine from nine New York vintners and tour the gardens during Daffodil Celebration and Wine Weekend at New York Botanical Garden. (Buy a $20 garden pass online, and pay $5 in person for a glass.)
Spring festival April 30, 2017 Celebrate spring at the Arbor Fest with food and craft vendors, a beer tent, petting zoo, pony rides, face painting, music, and composting workshop at Queens Botanical Garden.
Brunch on a sailboat April 30 – Oct. 8, 2017 Enjoy skyline views on a two-hour Champagne Brunch Sail Aboard the Shearwater classic schooner, leaving North Cove Marina. No heels. Discount tickets $69.