Interview with Katya Leonovich
Ulya Aligulova
On Thursday February 6th New York-based designer Katya Leonovich presented her second menswear collection on the New York Fashion Week stage at Pier59 Studios. The A/W 2020 line of Fix and Fax by Katya Leonovich continues the trends from the last season of bright colors, clever novel construction, and experimental fabrics creating a bold urban wardrobe for the modern male. Once again treading a thin line between fashion and wearable art, Katya's clothes are never short of the wow factor.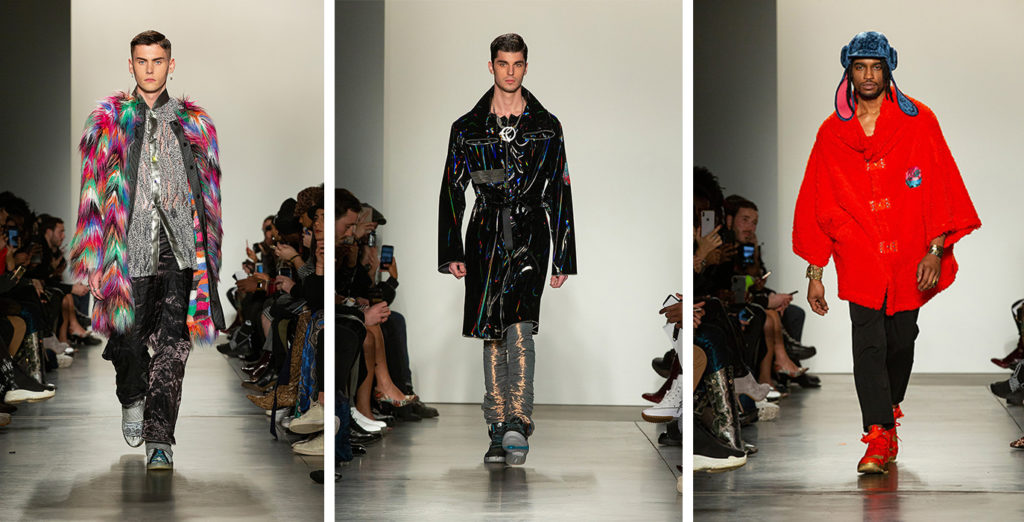 Though this is the designer's second menswear collection, she is by no means a stranger in the fashion world. Having studied fashion in her native Moscow and then furthering her studies in Paris and Rome, where she worked for the couture house of Gattinoni. Eventually establishing her own namesake couture womenswear label, Katya went on to exhibit her collection in the fashion capitals of the world like Paris, Milan, and New York for many years. Katya has always had a finger on the pulse of fashion, always looking to the future for inspiration and never shying away from brave experimentation. 
Same can be said about her A/W Fix and Fax collection. Strutting down the runway in brightly colored faux furs, iridescent nylon coats, and shimmering organza trousers, the models evoked the vibrant coloring of the male species of the animal kingdom—Katya's frequent inspiration. And of course, one could naturally expect for the rat brothers, Fix and Fax, to make an appearance as well. The label is named after the designer's beloved pair of rats called Fix and Fax that inspire many of her artworks since Katya is, in addition to all, a fine artist. Ranging from abstract expressionism to Pop Art, her artwork is often exhibited in New York and Europe. Fix and Fax are a recurrent subject in Katya's art where she reimagines them as the rodent version of Sinatra's famous Rat Pack where they are seen attending Galas, cooking, and leading the fabulous Rat Pack life. The pair found their way onto the patchworks on many of the garments imitating military patches on pilots' uniforms.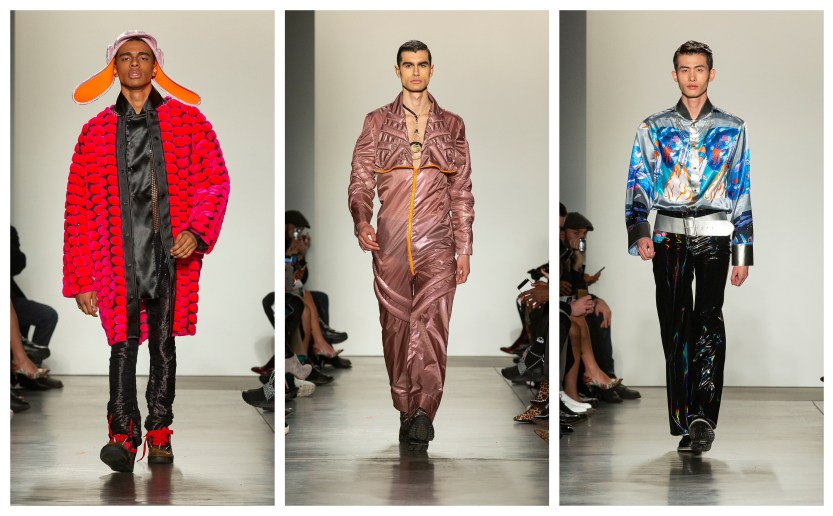 This season however, there is a clear nod towards futurism not only in the avant-garde nature of Katya's style and the unique fabric choices, but in the obvious references to aviation and space exploration in the form of overalls emulating spacesuits and old-school pilot hats created by the brilliant hat designer Irina Dratva who's worked with such industry powerhouses as Marc Jacobs and DKNY. In addition, Katya once again showed off her skilled mastery of luxury textiles and impeccable craftsmanship thanks to her decades of work in the industry: this was seen in the perfect tailoring and ingenious construction of the many pieces of outerwear from patent overcoats to a puffer and bomber hybrid coat and the sweaters delicately knitted from raw silk yarns from India.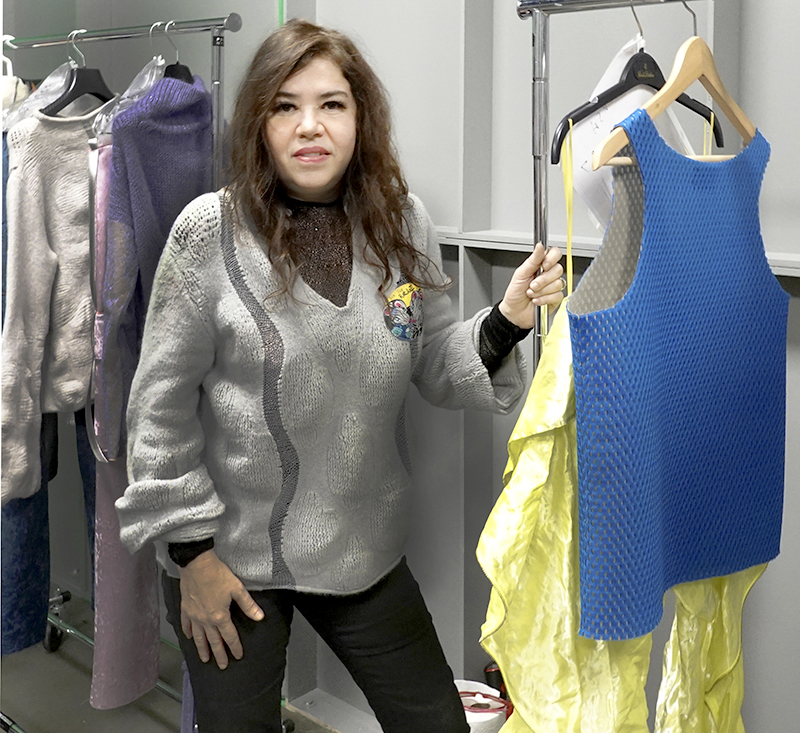 Here's what Katya herself had to say about her new line.
What has been your inspiration behind the A/W 2020 Fix and Fax collection?
To be completely honest with you, I have no real inspiration because my love inspires me myself. What I mean by that is I'm inspired by myself in a way. 
Are there any references to anything in particular in this collection? Apart from the usual reference to your pet rats that is! 
I reference movies a lot. I love movies. And I particularly love Scorsese's movie "The Aviator " so in this collection my Fix and Fax are pilots! You can see that in their aviator hats, military aviation some patches, retro jumpsuits. So I guess it's a bit of an aviation theme this season.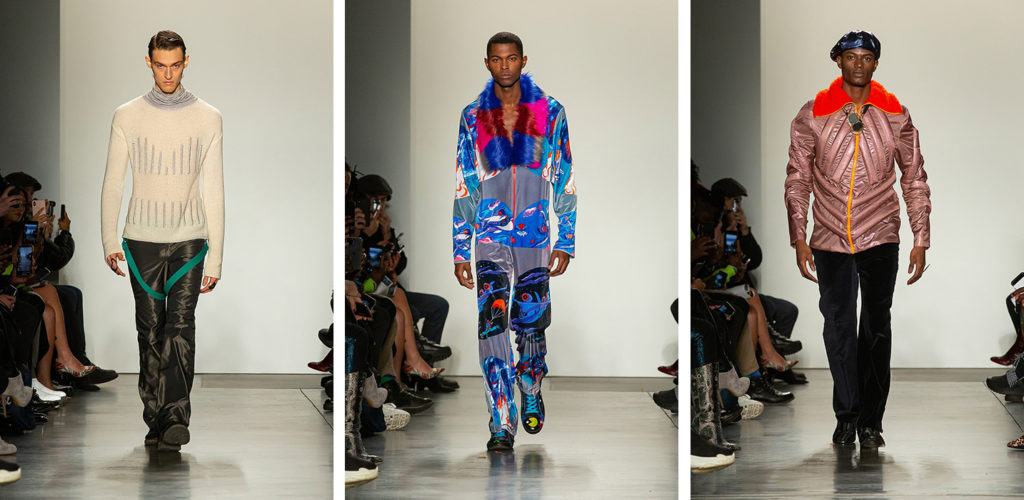 How would you describe your customer? Who are they?
I'd say they're mostly young people, like yourself in fact, you can wear this. They're for anyone really that pays attention to their clothes. They're not difficult clothes, they're wearable clothes, they're easy to wear. Easy-to-wear and ready-to-wear! (laughs)
What is your take on the current trend of sustainability in the fashion industry and the growing awareness around ethically made clothes? Do you use sustainable materials?
Well, to be honest, I haven't completely figured out what it means to me personally. In my opinion, sustainable clothes are ones you can continue making without adverse effects. I, for example, only use vegan materials. I never use fur or leather, only man made fabrics. So I guess in that way I'm supporting sustainability? (laughs)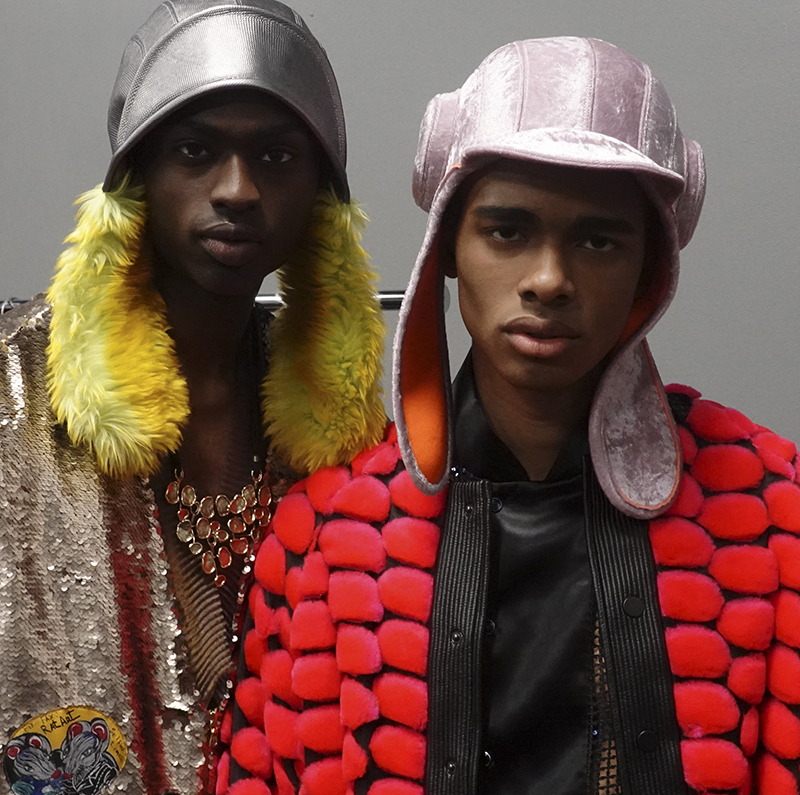 Having been in the fashion industry for as long as you have, how would you say your clothes have changed over the years? 
Well, the biggest change is obviously the switch from womenswear to menswear. This is only my second menswear/unisex collection, and it's all very enw to me. But my clothes still have my signature colors, proportions, patterns, shapes, etc. And there's also some artistic touches now like the prints of my own artworks that either make up the print of the whole garment or is incorporated as patchwork. That's my new signature let's say.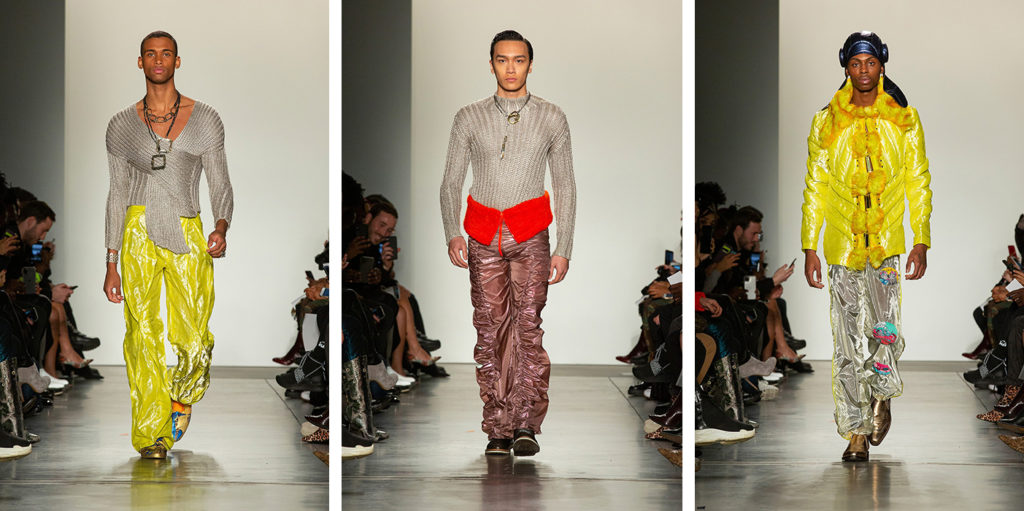 What encouraged you to change from doing womenswear for so long to doing menswear only?
Fix and Fax—my rats are two brothers so they gave me the idea to create menswear. And also I just wanted to try something new. Isn't fashion supposed to be about novelty and originality anyway? You can't do the same T-shirts your whole life. You always need to change and evolve.That's what keeps it fun!