"Plasticity of Motion". Exhibition, Fashion and Jewelry Presentation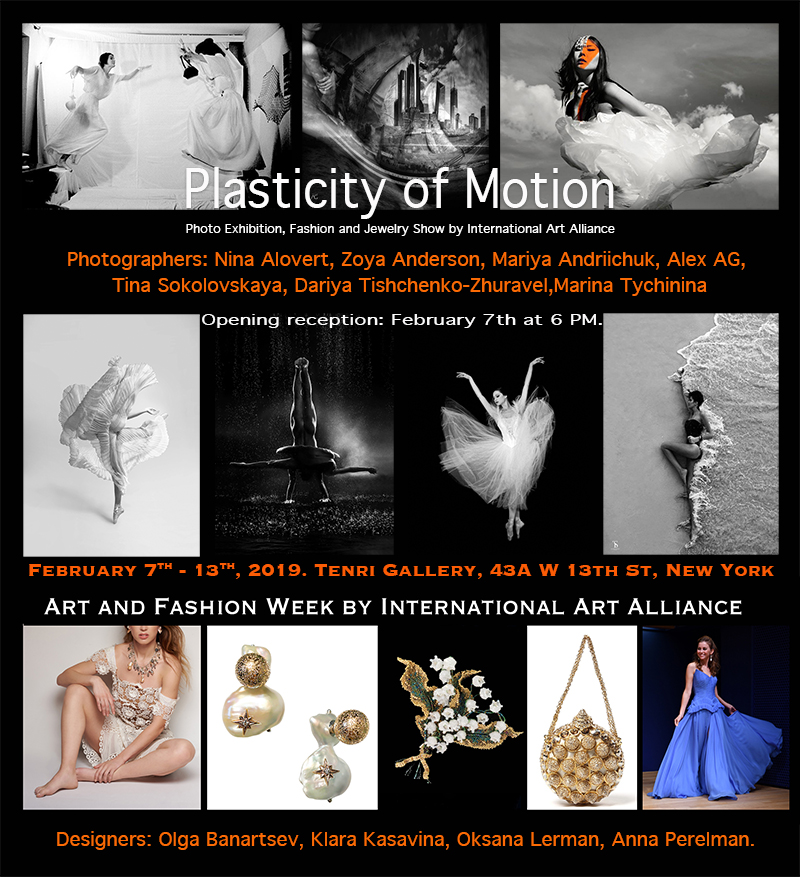 Opening reception: February 7th at 6 PM
Tenri Gallery, 43A W 13th St, New York, NY
February 7th – 13th, 2019
Participants
Photographers: Nina Alovert, Zoya Anderson, Mariya Andriichuk, Alex AG, Tina Sokolovskaya, Dariya Tishchenko-Zhuravel, Marina Tychinina.
Designers: Olga Banartsev, Klara Kasavina, Oksana Lerman, Anna Perelman.
New York Fashion Week is a vibrant celebration of creativity, beauty and craftsmanship. As a tradition goes, International Art Alliance participates in this event. This year the Photo Exhibition, Fashion and Jewelry Show will be held under the title: "Plasticity of Motion".
Harmony, beauty and the human body's fluidity are regarded as the muses for ballet, painting, poetry, photography, music and even fashion and jewelry. The exhibition will feature works by outstanding photo artists, famous jewelry and fashion designers. It is devoted to the human perfection and beauty. Human is the main theme of our exhibition and its creator. 
There is nothing more natural to us than to experience motion. But body's movement are diverse! Are there many similarities in the motion of a boxer and a ballerina? Are there any similarities in the stroke of a conductor's hand and a cowboy throwing a lasso. What is the same between the steps of an elegant model on the catwalk and the last sprinter's step at the finish line? Our answer to these question lies in the body's plasticity. One can experience, capture and present motion in different ways. The artists do it in their own way using their own unique ideas and tools.
The fluidity of flowing fabric, precious metals and pearls, beads and gems in the works of the presented designers fascinates and amazes with its originality and skill. Designers and stylists with exquisite taste collect things in a complete ensemble, with the main goal to emphasize the unique femininity of everyone who wears them.
Photography is the main topic of the exhibition. It is impossible not to admire the body's fluidity in the pictures. But one cannot, but admire the creativity of the person behind the camera. The unsurpassed photographer is the one  who not only caught the moment of the absolute harmony, but also conveyed the emotions associated with it.
These talented and extraordinary photo artists presented their works at the "Plasticity of Motion" exhibition. From classics to conceptualism and surrealism, taken on a film or digital camera – all the works are highly professional, talented and creative.
During opening reception:
Wine bar by Vella Wine Bar and Kitchen
Greetings to guests and participants
Poetry by Nataliya Newman dedicated to "Plasticity of Motion" 
Fashion Show of evening dresses and accessories by Olga Banartsev, Oksana Lerman and Anna Perelman  
All artworks presented at the exhibition, exist in a single copy.
Works can be purchased directly at the exhibition or reserved with a small deposit on the first day of the exhibition and purchased after the exhibition at a 20% discount.
The participants of the exhibition talk about themselves and about their selected work.
The great honor and joy for IAA was the participation in the exhibition of Nina Alovert. She is the unsurpassed ballet and theatrical photographer of modern times.
As you know, an excellent photo is not a depth of field, but a depth of feelings. Nina not only feels and stops a beautiful moment, she preserves for ever the unique moment of creativity and emotional lift.
Photos of Nina Alovert were taken at different times and on different continents- some of them separated from each other for decades and thousands of miles.
The people she photographs are dancers and actors from leading theaters. These are world stars and budding debutants. Alovert has the unique ability to recognize and show the strength of the individual talent of everyone who was lucky to be in front of her camera.
Nina Alovert: "While I was picking photos for the exhibition "Plastic movement", I faced a difficult task. I filmed many dancers, who by nature were endowed with the beauty of movement, the beauty of the body plastics. Every dance is plastic. In every movement there is plastic. I shot a ballet from different countries, I have a very large archive. For this exhibition, I selected those from whom the plastic movement in the photo is the most expressive. For example, a mass scene from Boris Eifman's ballet "Rodin", where dancers in various plastic poses recreate the sculptural group "Gates of Hell". Or a photo of Andris Liepa in the role of Kurbsky ("Ivan the Terrible"), where the shadow of the dancer on the wall emphasizes the graphics of the body during a jump.
The african-american dancer Desmond Richardson has a body-of-nature work of art. 
To the slim figure of the classical dancer Julia Makhalina on the pointe shoes – her skirt flying upward seem to follow the movement of her hands. Perhaps only the photo where Makhalina stands by theatrical spotlight in the shooting studio does not fully correspond to the theme of the exhibition. But we decided to put this photo in a lilac haze to emphasize the magical theatrical atmosphere in which created the beauty of plastic movement."
We are pleased to present the names of photo artists new to America at the Plasticity of Motion exhibition. These are young, talented, professionally demanded and successful photographers from Ukraine. Each of them repeatedly participated in Ukrainian and European exhibitions and won prestigious international competitions.
Mariya Andriichuk: "Motion captured demonstrates the passionate truth in light and imagination, interpreting the subtle conflict between sensuality and spirituality.  The pose is dynamic, the flow of hands, of emotions, of hair, of bodies, evidencing the plasticity of existence.
SOUL FLYING, self-portrait, 2006. The soul flies freely as the body serves as a nesting place…
It's one of my most recognizable and famous artworks. It's the very first of my artistic self-portraits, the very strong concentration of energy I put into it, which is like a reflection of my authenticity, about balancing sexuality and spirituality in all ways of self-realization.
In this artwork I show that I accept all of me, revealing all sides, and I don't have any contradictions with that.  All my artworks are different variations on the same message – the balance between sexuality and spirituality.
The motion of the hands is the very criteria for which I have chosen this work to show up in this exhibition 'Plasticity of Motion', as these movements give a feeling of being alive and prove the fact that we are multidimensional, limitless creatures, and our souls usually struggle for freedom from the bodies because they feel and know our limitless potential and abundance of the existing world.
Being an artist allows me to prove and create this reality.
About LA NAISSANCE DE LE FEMME, 2012. The body awakens with a chilling splash to cool realities…"
Model: Yana Kozachenko
My choice to present this artwork was that it gives a very dynamic feeling of aliveness, I love the shadow, the contrast, and the small details.   It gives spontaneous feeling to my collection of works.
The story  behind of this shot is that it was one of the last shots in our fashion shoot, when everything was over, and we were going to finish, to take make up off, but I suddenly remembered the bottle of milk in my refrigerator and I wanted to check my new flashes, if they could really freeze the drops. I asked  the model, Yana, and she agreed  to have cold milk splashed on her face.  So it did not have duplicates, only one clean shot.
The most valuable thing about this shot is her priceless genuine expression… and  to summarize this all – its all about awakening."
Dasha Tischenko–Zhuravel: "For me, Fashion photography is a tool. It is a tool among many other things that allows me to express myself, be creative and make a statement.
My photo works are always experiments with the sensual female body plastique with interspersed surreal ideas.
In the photo series Black Veil, the model (Tanya Alexandra)  is dressed in a sensual transparent fabric. Here there is the magic of feminine charm in the look and sensual cold sexuality in the curves of the body.
Lotus (Saina Kulichkina) and Ballerina (Sofia) were photographed under the overwhelming desire to flight. Light and perfect vibrations reflect the air image.
Behind each mask people wear, there's deep personal story and particular individuality which I try to reveal through images, behavior, movements and emphasize them in my works.
Tina Sokolovskaya: "The biggest inspiration for me in my art – is woman. But when I have a chance to combine the beauty of woman and the beauty of nature – for me it is the highest level of satisfaction.
I travel a lot, so I'm holding a mission to show the world through the woman Beauty.
I think if you can compare woman to animal it would be a cat. Sometimes wild, sometimes soft kitty. I think the eyes can tell a lot, so I showed the cat soul in this portrait and the nature beginning in the female.
The woman on this pic – very famous artist (singer and actress) in Ukraine. A lot of people can see just a sexy body in her, but for real she is so talented and charismatic, so I wanted to show her inner energy with this portrait, where you can't even see her eyes – it's just about energy
I was shooting this ballet dancer just in the street and it reminded me a quote: "Dance like nobody see". The grace, beauty, but the main sense of this pic – be brave enough to do what do you want to do and never care about other people think. Be what you want to be, be in move
The biggest inspiration for me in my art – is woman. But when I have a chance to combine the beauty of woman and the beauty of nature – for me its the highest level of satisfaction.
My fav and well known pic – "On the wave" is showing how harmonious and majestic can be the beauty of the elements of water and the female body.
I took this above the bridge in Dubai, Just after shoot for my client I said – let's try this… I didn't know what I will get, I didn't expect the wave. I just wanted to try this angle. But perfect timing made this shot."
Zoya Anderson is a photo artist who uses traditional photographic films as a media to create her artworks in a retro style. Today, Zoya lives in Alaska. 
Zoya Anderson: "I categorically refuse to make photos of professional models. Period. I prefer to leave all these pretty girls to the fashion photographers. I have been constantly searching for "mine" faces I find special and founding them everywhere: at the subway or simply on a street. Of course, incidents happened occasionally during this search for models among random passers-by but surprisingly it was a subway station where I discovered a model who became one of my favorites. Now she is a wonderful  journalist. 
The studio workshop at the Minsk community photo club played a key role in my career as a photographer. Mr. Valery Lobko, our leader, our teacher, our master, made me fall in love with photography from the first sight and forever.
On these, "retro photographic films and paper" I started creating an extensive series of photos that have defined my artistic style and became one of my favorites. To make my photos look vintage I used special photographic solutions. I have been also constantly struggling with sharpness, no matter how strange it may sound. The sharpness and precision are good for forensic and medical shots, where all the tiny nuances of a subject item are so important. Whereas in my work, I try to capture dreams and desires that do not have a clear outline.
About the photos presented at the exhibition. The series entitled " The Levitation School" shows two girls jumping towards each other looking like some kind of prototypes of Masha Kapilova's dolls (http://kapilova.com/www/). One of them is Masha herself, a renowned artist and sculptor, and the second is Irina Bigday, an experienced curator who organized several art exhibitions in Belarus.
This photo session was intended as a reflection of a dream where you can push off the ground and fly high above the trees and buildings. And then, to sit somewhere on a cloud, having a break from a tedious routine and swinging your gams in a fresh air there, far away from your everyday troubles and tribulations. Otherwise, you can arrange it at home. Just put a mattress on the floor and dress up a little bit! Just believe me – neither a modest size of your room nor the low ceilings will ever stop you! Masha and Irina, two highly respected and extraordinary personalities who are quite busy with their own artistic projects agreed to participate in this non-profit and very emotional photo project and I think they did perfectly well. The photos included in this series are like shots from an old movie of the epoch of silent cinema: spontaneous, emotional and surreal.
Alex AG's photography based art aims at redefining the view of the media. Alex's works explore the concept of reality, and create space for fiction in photographic narrative. His images are based on several photographs, combining the complexity of digitally modified panoramas with drama of street photography scenes or studio-shot images. This combination creates a unique tension between real emotion  of a personified humanity and mechanical beauty of man-made objects.
Alex AG: "Alex AG – The dialogue with reality.
Movement is life. Plasticity is a defining element, deciding on how we will perceive and react to movement. My works from the new series "Dreams in Color" combine man-made objects, usually from urban environment, with scenes filled with life and natural emotions. The tension between plasticity of movement of a living being and mechanical activity of artificial objects creates the narrative, meant to generate deep emotional response. My works do not offer to a viewer a specific point of view, but visuals open to interpretation. I strongly believe that in these images everyone can find something resonating with their own experience and make them a starting point for a process of emotional reflection. Works included in Dreams in Color based on large panoramas, digitally converted into surreal objects, only shadowing the reality on which they are based. The scenes added to these landscapes usually are product of street photography in a large city, focused on momentary emotion, simple activity, brief moment of reflection of urban occupants. Another part of visual material is archetypical objects, based on a meaningful signs, rooted in experience of social interaction, and meant to be read in connection with the context of modern civilization. 
Creating works for this series I have chosen the combinations of bright and often borderline conflicting colors, providing means for easier understanding of complex narrative embedded in them.  The color division serve the same purpose as paragraphs in text, allowing for the more complex visual patterns to be deciphered and understood, every time discovering a new story. The composition of these works is also based on complex principle, incorporating the complete and measured composition of the main image into a different composition of a finalized work. These compositions often are completely different.
Another characteristic feature of this series – small details intentionally added to the works in order to create yet another layer of meaning. For instance, the name of the car in Summer of 60's is Wildcat." 
Marina Troshina is known for her portraits of American artists, in which she skillfully conveys the mood and character of a creative person.
Photos for exhibition 'Plasticity of Motion'.  The pictures of Marina Tychinina amalgamate abstraction images and the beauty of the human body. These studies exemplify plasticity of motion. Here she features a three tier value system wherein the dark and lights define the form within the atmospheric halftone of her photography. This methodology supports a visual fluidity which gives the figures a seamless transparency .
Designers
Olga Banartsev kindly provided for the opening of the exhibition dresses from several of her collections. Professional models will present dresses in combination with decorations and accessories of designers – participants of our exhibition.
Olga Banartsev: "I do not hesitate to say that it is to look for new ideas and new forms. It is an inexhaustible creative process. When I'm working on a design, I always imagine how the dress will look in motion. It is very important for me that the fabric interacts beautifully with the space and it does not matter, will its owner dance until she drops, or proudly accompany her spouse at an official reception. She should feel confident and beautiful in any situation, and the fabric and texture of the dress should help her in this."
Oksana Lerman:  «I would like to share the story how I created my latest designs. Оne of them is white freshwater baroque pearl gold stars diamond necklace. 
I always was in love with the this extraordinary type of pearl and with an opportunity to show my imagination while working with it. Iridescent surface and gentle iridescent shades were presented to me by the morning sky in which I can see the stars still burning down. This idea appeared from sketch to me during the two months long creative process. 
This piece of jewelry is completely handmade. I encrusted each pearl with stars and gold balls, drilling out the perfect place and the best possible composition for every each one of the pearls, like billions of small distant stars in the night sky. The stars shining on pearls you can see in three colors: white, yellow and pink with sparkling full cut diamonds in the center. The necklace is completed with two golden arcs, and an elegant accent in the form of a small round pendant with the logo and engraved "Rock Lily Collection". This necklace is one of a kind, very feminine and elegant – was born in New York City and I am gladly presenting it today!»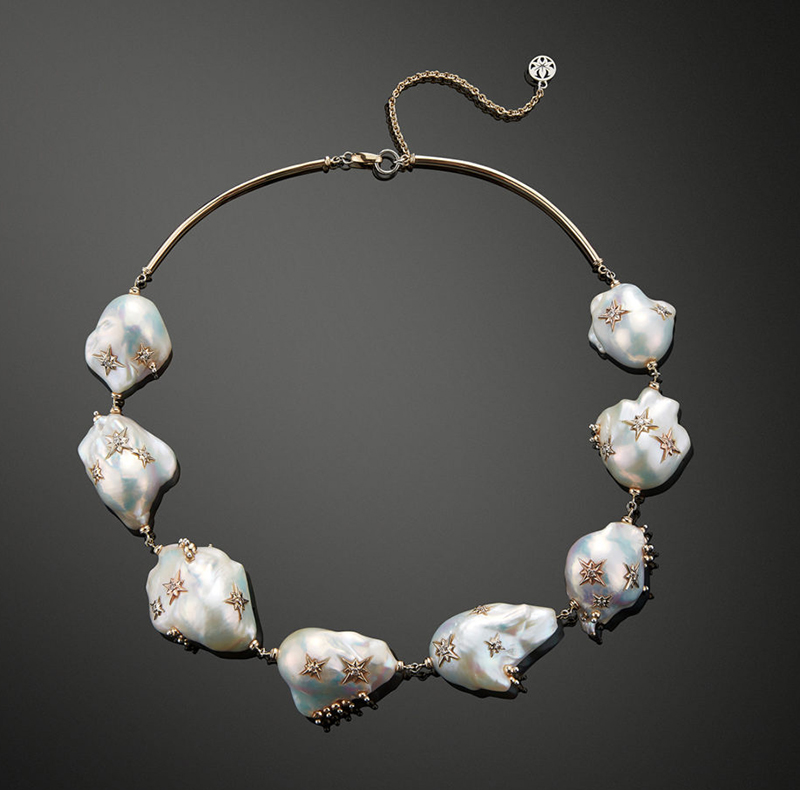 The second necklace is one of a kind as well. I always liked to combine materials of opposite texture and color. This new necklace includes ice large crystals captured by grid from gold chains with gold balls floating on them and faceted beads of Indian rubies gathered as berries on thin sprigs with blackened silver. While wearing around the neck- rubies will wiggle with every movement and catch the light. Created in New York City- this necklace reflects the contrast and the magical attraction of the difference and originality, of this amazing city.»
Anna Perelman is an Estonian born American beads jewelry designer whose passion for innovative designs earned her recognition among both industry professionals and consumer followers.
Her style can be defined as an organic combination of romantic shapes and colors and challenging hard-to-do beading techniques. Anna constantly experiments with various–mostly antique–Venetian and French seed beads, natural stones and precious metal elements.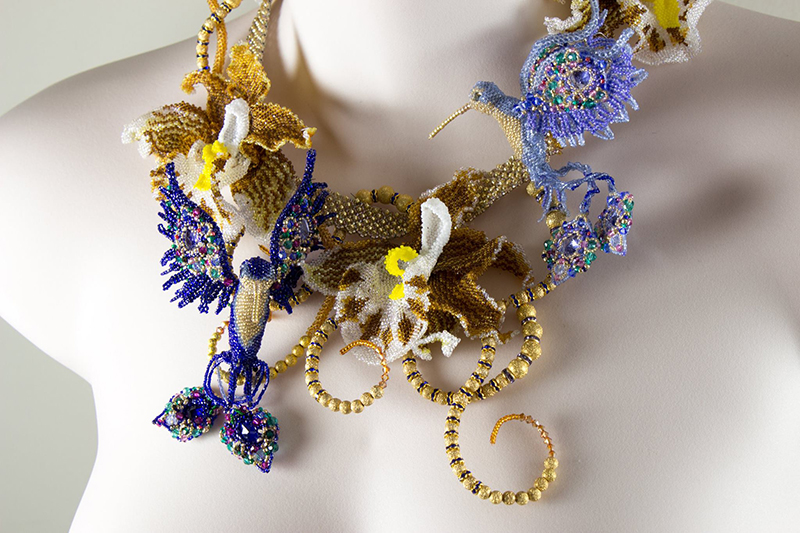 Anna exhibits her works at select US and international trade shows and does not offer any pieces for sale or commercial use.
Clara Kasavina, the line of luxurious accessories hand-made in New York, is renowned for its innovation and meticulous craftsmanship. In a collaboration between husband and wife, visionary and sculptor, each handbag, minaudière, belt, and piece of jewelry is conceived and created with painstaking attention to taste and detail.
Clara Kasavina's partner and husband, Misha Berger, sculpts all the metalwork by hand in their New York studio in conjunction with a team of specialized artisans.
The husband and wife duo met as children in the Ukraine, and then again as adults in New York. Getting their start designing and manufacturing belt buckles for Ralph Lauren and Donna Karan, the team was soon recognized by specialty stores across the US in what is now a 30-year celebrated tradition of designing exclusively handmade handbags and accessories worn by celebrities throughout the world and featured in the top fashion magazines of our time.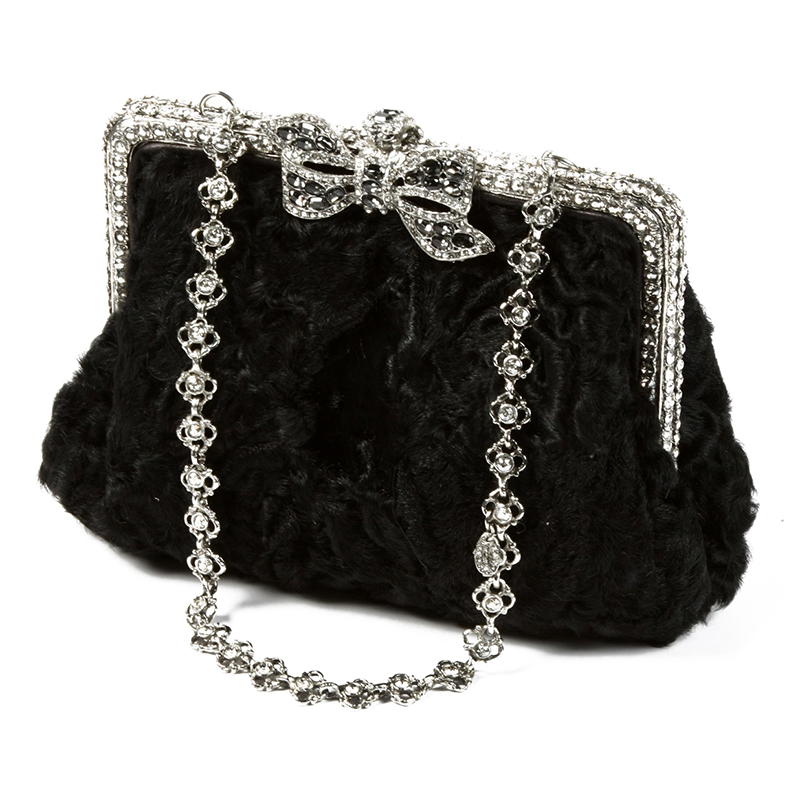 During opening reception:
Wine bar by Vella Wine Bar and Kitchen
Greetings to guests and participants
Poetry by Nataliya Newman dedicated to "Plasticity of Motion" 
Fashion Show of evening dresses and accessories by Olga Banartsev, Oksana Lerman and Anna Perelman  
All artworks presented at the exhibition, exist in a single copy.
Works can be purchased directly at the exhibition or reserved with a small deposit on the first day of the exhibition and purchased after the exhibition at a 20% discount.