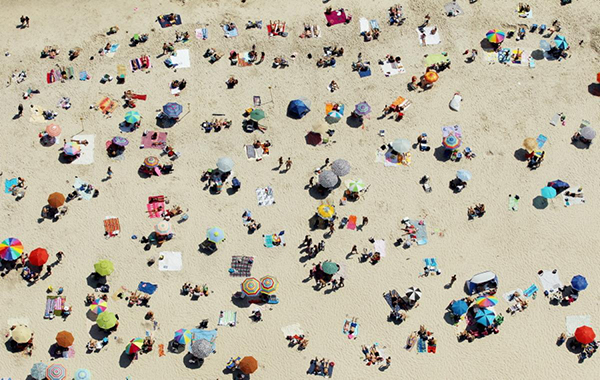 [box][quote]Принято считать, что август последний месяц лета и от этой мысли становится немного грустно – заканчиваются каникулы, отпускной период хоть и в разгаре, но его быстротечность становится очевидной, в магазинах появляются осенние коллекции одежды и жара начинает больше утомляет чем радовать. Но не будем торопить время, в Америке лето официально заканчивается аж 21 сентября. Да и погода, как правило подтверждает, что сентябрь — это полноценный летний месяц. А посему не стоит сожалеть раньше времени об утраченных летних возможностях, – продолжим ловить каждый солнечный день запасаясь энергией на последующий, менее богатый ультрафиолетом сезон. Так что в августовской Афише, кроме традиционной информации о культурных и развлекательных событиях Нью-Йорка уделим особое внимание пляжам и загородным прогулка. Август самое время посмотреть, что же творится за городской чертой. Счастливых и удачных Вам поездок, отдыха и удовольствий.[/quote][/box]
August 1 – 2, 2015 (begins July 6) Lincoln Center Festival. Enjoy extraordinary opera, music, dance, and theater that showcases contemporary artistic viewpoints at Lincoln Center Festival in and near Lincoln Center.
July 27-August 2. Theatre of Nations, Moscow. Miss Julie. New York City Center. Performed in Russian with English supertitles
 August 1, 2015. Water balloon fight. Water Balloon Combat rewards the winning team with free beer. It also has a DJ, corn hole tournament, games, and a free shuttle from bus/train to Aviator Sports and Events Center.Discount tickets $29.
August 1 – 22, 2015 (begins July 22). Classical music festival. Attend concerts, operas, late-night recitals, and world premieres at Mostly Mozart Festival, performed by the festival orchestra and special guests at Lincoln Center.
August 1 – Sept. 27, 2015 (weekends). Renaissance fair. Travel one hour north to 16th century England to see knights joust, mingle with costumed minstrels, shop in an artisan market, play games, and watch shows at New York Renaissance Faire. Discount tickets $12.
August 1 – Nov. 30, 2015 (also July). Funny Hitchcock play. The 39 Steps is a classic film by Alfred Hitchcock about a wrongly accused man racing to clear his name while evading the law. This comedic spoof is a fast-paced play at Union Square Theatre.  Discount tickets $20.
August 3 – Dec. 28, 2015 (Mondays at 8 p.m.). Magic show. Five professional magicians perform card tricks and feats of wonder with plenty of humor at Monday Night Magic in Players Theatre. Discount tickets $15
August 6 – 9, 2015. Italian traditional festival. The Giglio Feast of Saint Antonio celebrates Italian food, culture, religion, and tradition. On Sunday, a platform holding a 12-piece band and 80-foot statue is carried through the streets of East Harlem. Free.
August 7, 2015 (7:30 p.m.). Evening of pop & jazz. Hear The New York Pops with Pink Martini (a "little orchestra" from Portland playing pop, jazz, Latin, and classical) at Forest Hills Stadium. Discount tickets $10-89.
August 7, 2015. Films & food on the beach. Bring chairs or blankets and register to see free Shorts on the Beach (music at 5 p.m., short films at 8:30 p.m.), optional Taste on the Beach ($100 21+).
August 7 – 8, 2015 (8 p.m.). Ballet. Ballet superstars Natalia Osipova & Ivan Vasiliev dance in Solo for Two at New York City Center.Discount tickets $27.
August 21 – 23, 2015. Jazz festival. Charlie Parker Jazz Festival has concerts, recordings, and talks in honor of jazz legend Charlie Parker. Free. Charlie Parker Jazz Festival -Marcus Garvey Park; Sat 23Tompkins Square Park; Sun 24
August 15 – 16, 2015. 1920s lawn party. Wear a flapper costume and dance to the Dreamland Orchestra at Jazz Age Lawn Party, which includes a Charleston dance contest, dance lessons, follies, food, 1920s cars, and a kidland on Governor's Island.
August 22, 2015 (7 – 10 p.m.). Break-dancing contest. Eight award-winning East Coast dance crews battle to win $5,000 at B-Boy Royale II in NYU Skirball Center.
August 22, 2015 (1 p.m.). Beach party. Enjoy music by local reggae and rock bands plus a seafood platter at Governors Island Music & Seafood Beach Party at Governors Island Beach Club. Expect lines. Discount tickets $20 to $35.
August 30, 2015. Brighton Beach street fair. Brighton Jubilee Festival celebrates diversity with multiple entertainment stages, a marketplace, kiddie rides, and food stands on Coney Island. Free.
А теперь перечислим лучшие пляжи нью-йорка:
Fort Tilden Beach, Rockaway;
Jacob Riis Park Beach;
Jones Beach, Long Island;
Long Beach, Long Island;
Orchard Beach, The Bronx;
Robert Moses State Park, Long Island.
Рекомендуем лучшие поездки за город на день
Stony Brook, L.I. 1:20  на машине;
Atlantic City – NJ – 2 часа на машине;
Cape May, NJ 2 на машине 2:30 на поезде NJ Transit;
Cold Spring, NY – 70 минут на поезде Metro-North;
Hamilton, NJ 1:20 на поезде NJ Transit;
Short Hills, NJ – 45 минут на машине.
Прекрасного всем продолжения лета.